IotaWear.com (TM) by University Apparel
Custom clothing and novelty items designed specifically for the Brothers of Iota Phi Theta® and Iota Sweethearts.
---
IotaWear.com Home Page
---
Welcome to IotaWear.com (TM) by University Apparel, Inc. University Apparel, which is distinguished to be recognized as Iota's first National vendor, has been creating new and exciting Iota Phi Theta® paraphernalia since 1988. Many of the designs and symbols that you see across the country were originally designed by University Apparel, Inc., and they have now become the standard for Iota Phi Theta® and Iota Sweethearts Inc.
This website of paraphernalia, dedicated strictly to the Iota family, originally debuted on September 19, 1998, in conjunction with the Fraternity's 35th Anniversary. As our offerings expanded, the site was given it's own domain name, IotaWear.com (TM), which debuted August 14, 2001, shortly after the Conclave in New Orleans.
As we have been for the past 27 years, University Apparel continues to be dedicated to providing originally designed symbols and quality paraphernalia items, for the Men of IOTA and their Sweethearts. Our IotaWear.com (TM) website is but one extension of that commitment.
Throughout these pages, you will find everything for the IOTA family --
from Bags & Caps to Shirts to Jackets to Novelties.....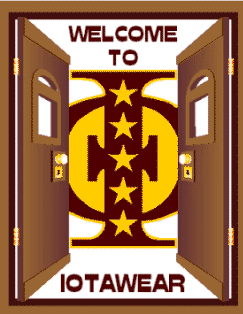 ---
Contact Information
NEW Store Address:

In-Store Hours:

FRATERNAL REGALIA
by University Apparel, Inc.
2512 Mount Holly Rd
Burlington, NJ 08016

Monday - Friday
10:00 am to 7:00 pm
Saturday
10:00 am to 6:00 pm
Telephone Customer Service Hours:
Monday - Saturday - 11:00 am to 6:00 pm
Phone:
609-871-3601
Electronic mail:
Click this link to e-mail us for any questions you may have.
For Driving Directions to BURLINGTON, NJ=>

---
Thank you for Visiting IotaWear.com.
Please sign our public GUESTBOOK by clicking here.
IN GOD WE TRUST.
WE SALUTE OUR MEN & WOMEN IN UNIFORM
AND PRAY FOR THEIR SAFE RETURN.